Reciprocal Links
Reel Time Sound Services - Recording Studio, Mastering, Audio Restoration, Sound Engineering Tutoring, Cardiff, South Wales.
IndieMic - Indie Mic is a social portal devoted to all things concerning music, member based website, that exclusively showcases, markets, and promotes independent musicians, from all genres of music, through online video submission.
MASTER+ Online - State of the Art Online Mastering.
Take 2 Studios - Specialising in Quality Sound Recording, from Production perfect Radio Commercials to TV Commercial Soundtracks.
Music Production Tutorials - Audio production tutorials, 1-2-1 tutorial courses, sample packs and synth sounds, remix and production services.
Indie Connect - Music business education and high-level music industry networking.
Location and Studio Audio Recording, music production, and live sound engineering. MiniDV video production. Graphics, fine & commercial art, photography, and website site design. Based in Las Vegas, Nevada, USA.
Skope Magazine - Diverse Music Coverage for the Digital Age.
The Music Business Registry currently offers four directories: the A&R Registry, Publishers Registry, the Music Attorney, Legal & Business Affairs Registry and the Film & Television Music Guide. These products are available in printed form, in a digital format (disk) or on-line.
The Unsigned Guide - Music Industry Contacts, Directory, Unsigned Book.
Freematik - Otherwise known as Tom Freeman, Producer/Artist. His latest Rap/Hip Hop creation called iMatik was fully created using the iPhone.
DJM Music Ltd - Retailers of Audio Equipment from Guitars to Keyboards.

Radio Jingles from Music Radio Creative
BandMix - Connecting Musicians, all across the World.
Andy Brady - AB Sound, Audio Engineer and Sound Designer with facilities.
Martian Engineering - Recording and mixing studio in North Cornwall, offering residential facilities, spa and state of the art entertainment.
Royalty Free Production Music Library - Royalty free production music and sound effects library by download or on CD.
Paul Wilkie - Composer and Sound Engineer, Providing Sound Design, Mixing, Recording, Mastering, Post Production, Studio Recording, Voice Overs and More.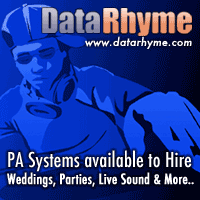 Soundsmove Facilities - Record Label, Radio Adverts, Promotional Films, Showreels, and More.
KPee - @KPizHipHop on MySpace Music.
Jackson Guitar - At World Music Supply, we offer acoustic electric guitars in all your favorite models and styles. Buy beginner drum sets, bass guitar amplifiers, wireless studio microphones, dj lighting & recording equipment online. We've got something for everyone, in top brands like Fender, ESP, B.C. Rich, and Jackson.
Berry Hill Recording Studio - In the Forest of Dean, combines value for money with a truly professional, personalized approach,. With over 20 years experience working with major labels and artists, no other studio can offer the same high quality service at such affordable prices.
Shay's Recording Studio Ireland - Countryside Recording Studio located in one of the most beautiful parts of Ireland. Designed by Max Hodges, one of the world's best acoustic experts.
Sound Sense Pro PA - John Weatherby Sound Sense PA Hire & Recording Services.
Music Masters - Music Production and Sound Engineering Courses Run By Leading Producers.
Claycastle Recording Studio - Youghal, Co. Cork. Ireland.
Unit 2 - Unit 2 Music Recording Studio, Live Studio Hire, London.
The Den Studios - Recording StudiosDudley, West Midlands, Mastering, Drum Lessons and More.
Die Skreemin Studios - A studio specializing in low budget high quality music production based in Northwest UK.
Film School - Find the right school of film you are looking for with our worldwide film schools directory.
Rory Walker - Music Producer and Audio Engineer, London, England.
Select Recording Studios - is an established London Recording studio based in Wood Green, North London, offering professional recording, mixing and mastering services, full production, voiceovers, session musicians,song writing/composing for Bands & singers.
Taine-Multimedia - Taine-Multimedia is an audio recording and production studio in Bucharest, Romania.
Giorgio Lovecchio Digital Solutions - Sound mixing studio and teaching institution for video and music technologies.
Mac Ruth - Production Sound Mixer in Budapest.
Dom Corbisiero - Sound Recordist, Film Crew Pro.
SafeandSound Online Mastering - High quality, low cost online mastering.
AUDIO IN - PRODUÇÃO DE AUDIO,Lda - High quality Euro Portuguese Dubbing.
Caro Snatch - Artist Engineer in word and sound.
Leigh Valley Music Awards - The LVMA Wildflower performance was part of a project that was put together as a way to say thanks, and to honor Gloria Domina - who has done so much for the Lehigh Valley and many communities throughout PA.
HL Recording Studios - Studio Recording Services, HL Recording Studios, Southampton, Hampshire.
Untapped Talent Recording Studio - Untapped Talent is a multi purpose digital and analogue recording studio based in Southampton, Hampshire. The studio combines the latest in industry standard technology and the addition of supurb acoustics for both monitoring and recording located in Southampton, Hampshire.
London Recording Studios - Heart of Gold Recording Studio Located in West London.
Chicago Voice Lessons - Years of Experience and a Fun, Easy-going approach.
Chicago Guitar Lessons - Chicago's Official Choice for Guitar Lessons and Pro Tools Recording.
USA SONGWRITING COMPETITION - Promoting the art and excellence of songwriting.
IAMA (International Acoustic Music Awards) - Promoting the art and excellence in performance in Acoustic Music.
Lukas van der Walt Piano Tuners - For all your piano and piano tuning requirements Cape Town Western Cape South Africa.
The Music and Miscellaney of TagYerit - Quirky music and web pages include pumpkin carving music videos and toilet paper collecting ...
The Music Gardener - Artist Manager, Music Marketing, Christian Music Marketing.
ForGuitar Chicago Guitar Lessons - Chicago's Guitar Directory for Lessons, Tabs, MP3 Backing.
Metal Guitar - Guitar War is an online guitar fight club. Metal guitarists from all over the world gather to match up in head to head online guitar battles, team up in team war, learn new techniques and exchange tips and tricks. If you like to shred guitar, Musician War is for you.
Músicas para Orkut - Milhares de músicas para Orkut, e você pode escutar as músicas e mandar para todos os seus amigos. Entre já e escute suas músicas preferidas.
Kings of Flow - LA, California, Latin, World, Reggea/Latin Pop, Music, Lyrics, Songs and More.
Metal Life Magazine - The Music...The Industry...The Lifestyle, Featuring News, Interviews, Bands and lots more.
The Celebrity Cafe - News, Reviews, Opinions, Contests, and Fun and Games.
New Reviews - is an independent music website, dedicated to bringing you the hottest reviews, interviews and news! Signed or Unsigned!
ETNow UK - Entertainment Technology News on the Web.
Maverick - The voice of Country, Folk, Bluegrass, and Roots Music.
Joules Productions - Music Producer, and Recording Studio in London.
Wiggzaro Music Productions - Music Producer, Recording Studios, London.
Dan Fissel Custom Music - Original Music Scores for Radio and TV. Jingles, Soundtracks, Production Beds, as well as Non-Union Voice-Talent.
SL Music Productions - Hill Briggs, Director and Producer, with Studio in Portishead, Bristol.
AW-PA Sound Systems - Kent PA Hire, Sound Engineer Hire, Maidstone. Available for Indoor and Outdoor Events, inc Live Bands, Fetes, Displays, and More.
A.T. Music Group - Music Teacher and Recording Studio, Chelmsford, Essex.
Base Sound - Specializing in 1, 2, and 4 day live sound engineering course's.
Mark Allan Wolfe - Music from a Different Perspective, Composer/Musician/Songwriter.
Red Tiger - Puertorican rock band, blown away massive crowds, Also played Spain, Japan and Almenia.
Nigel Cuff Music - Online Session Musician, and Producer.
Media College - Video, Audio and Multimedia Resource's.
MixTheBand - Online Sound Engineering Tech Sheets.
Tim Donahue - The Official Tim Donahue Website, Harp Guitar Innovator / EMI-Japan recording artist.
Frank Palangi - Solo Artist On MySpace Music, Covering Rock, Alternative, and Acoustic.
Audio Visions - Event Staging - Audio Visions is the Midwest's largest single source, production company with offices in Omaha, Nebraska and Minneapolis, Minnesota.
Splurgo Audio - Your source for music loops, production music, music for flash and sound effects. Direct downloads and Postal mail delivery available.
The Beat Suite - Production music library with thousands of music tracks, loops, stings and more. Instant access to royalty free mp3 music tracks and downloads.
Beats | Buy Beats | Sell Beats
Has the best collection of pro quality royalty free music production available online. Independent Artists, Rappers, Singers/Songwriters can download instrumental beats (tracks) from multiple genres and record vocals over them to make their next hit.

Serge Kozlovsky - Devoted to the promotion and awareness of contemporary new age music.
Musictogousa - Home Of The Songwriter's Network, Kickback Radio and Artworks On The Net.
CoreDJRadio - The Network for The Core DJ Syndicated Radio Show.
Link To Us
If you think your website visitors would find "The Audio Production Suite - ampthetex.co.uk, information and resources useful, then please feel free to link to us.
You can use any of the following or create your own.
The Audio Production Suite - www.ampthetex.co.uk
"the audio production suite, covering all areas from music production, audio technology, sound engineering, courses, links and more at; http://www.ampthetex.co.uk"
© Copyright 2001-2021 - www.ampthetex.co.uk - All Rights Reserved.
All trademarks used are properties of their respective owners. All Rights Reserved.